Don't forget to grab your freebie in this Month of Homeschool Ideas! I have put the latest finds, updated each Sunday, here to help you build your homeschool library and resources with the latest great buys for study units, courses, supplies and even cute stuff for moms! (Tip – stock up now and do some holiday shopping!) Scroll down to slip into something comfy and cute from Homeschool Style Co. for a limited time!

Coding Classes & gift ideas 50-75% OFF
Have you tried Certifikid? They have a ton of great deals all year long. We dip into these for parties, vacations and gift giving for friends with lots of littles.

Right now, get 15% off Disney World, 40% off Disneyland and 30% off Universal Studios and up to 50% off Six Flags. Just in time, get 25% off personalized Easter gifts. We grabbed the 40% off movie tickets for our summer hobby.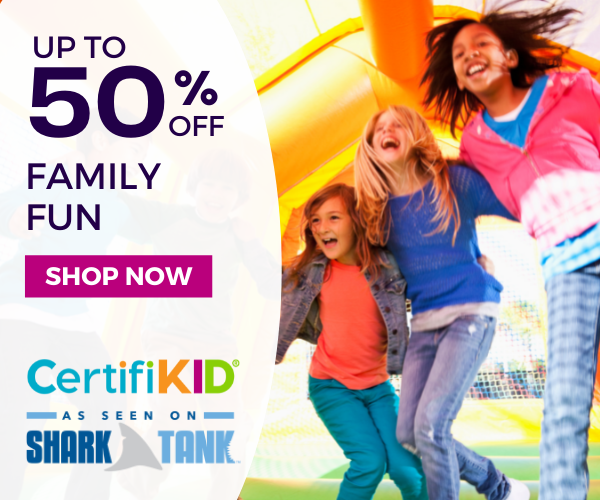 Homeschool Wear and Gifts 10% OFF!

Cute homeschool gear and gifts at Homeschool Style Co. She is offering 10% off for The Homeschool Cafe readers. I love her fun shirts. I'm going to gift her sweet coffee mugs stuffed with homemade goodies to my new homeschool mom friends for their birthdays. Use code HSCAFE10.
Full Online Curriculum for less than $30 a month!
Funcation Academy is offering 18% off its full project-based curriculum with live teacher support for The Homeschool Café readers!
We signed up for Funcation Academy when I had just started homeschooling. The twins loved it because they were able to connect with other kids in the homeroom, do their work independently, check in with teachers and then circle back to talk to their friends around the country in the Funcation Academy clubs and other social opportunities.

I loved it so much I reached out and talked to Amy Scott, the founder of Funcation Academy. I felt Amy Scott as a mother when she said this right here.
"I'm a fairly educated person, but I can't teach 9th grade algebra," Scott said. "It's definitely beneficial to have the support, wherever you can."
And then this when we talked about how hard it can be as a homeschool mom when you struggle with teaching them something they are struggling with.
"They are really not struggling," she said, "they are learning."
Kids can also earn Funbucks that they can spend on approved items in the online store. Everything ships through Amazon. Parents can also put parameters on the shop to know what their child is buying and encourage them as they learn about finances. There are many opportunities to socialize, from the homeroom to the extra fun clubs.
"You get to use whatever features and services you see fit that we provide," Scott said.
Free Assessment for Any Age

Once you have completed the free assessment, you will receive a special code from Funcation Academy to get this full curriculum with teacher support for under $40 per child! The free assessment really helped us get a better understanding of where we needed to focus and what they had mastered.
Ending Tuesday! Cricut is extending their Christmas in July Sale featuring 50% off materials and accessories, as well as discounts on the Joy, Explore Air 2 and Maker machines! Get Free Economy Shipping on orders $99+ with code SHIPJUL or JULSHIP through 7/31.
Thorough and Personal Assessment for abilities
NEW! If you need to get an assessment, or you (like me!) love a good overall assessment each year, I have an incredible resource we've used to keep us on track in our homeschool this past year. Felicia Wright is a professional educator and amazing teacher we have worked with who really cares about kids. She got my son, who is on the spectrum, to race to the car to get to her class and write pages for her (For me? He begrudgingly writes a sentence, and it's usually not very positive!).
She is offering $25 off with code THEHOMESCHOOLCAFE! The Education Assessment with a consult call includes an hour with Mrs. Wright to go over your child's results and you can ask all your burning questions! We hired her when we first started homeschooling and it helped me gain insight into what they needed, set up our first year to be a success and not waste more money on curriculum that didn't work. You know how that goes!